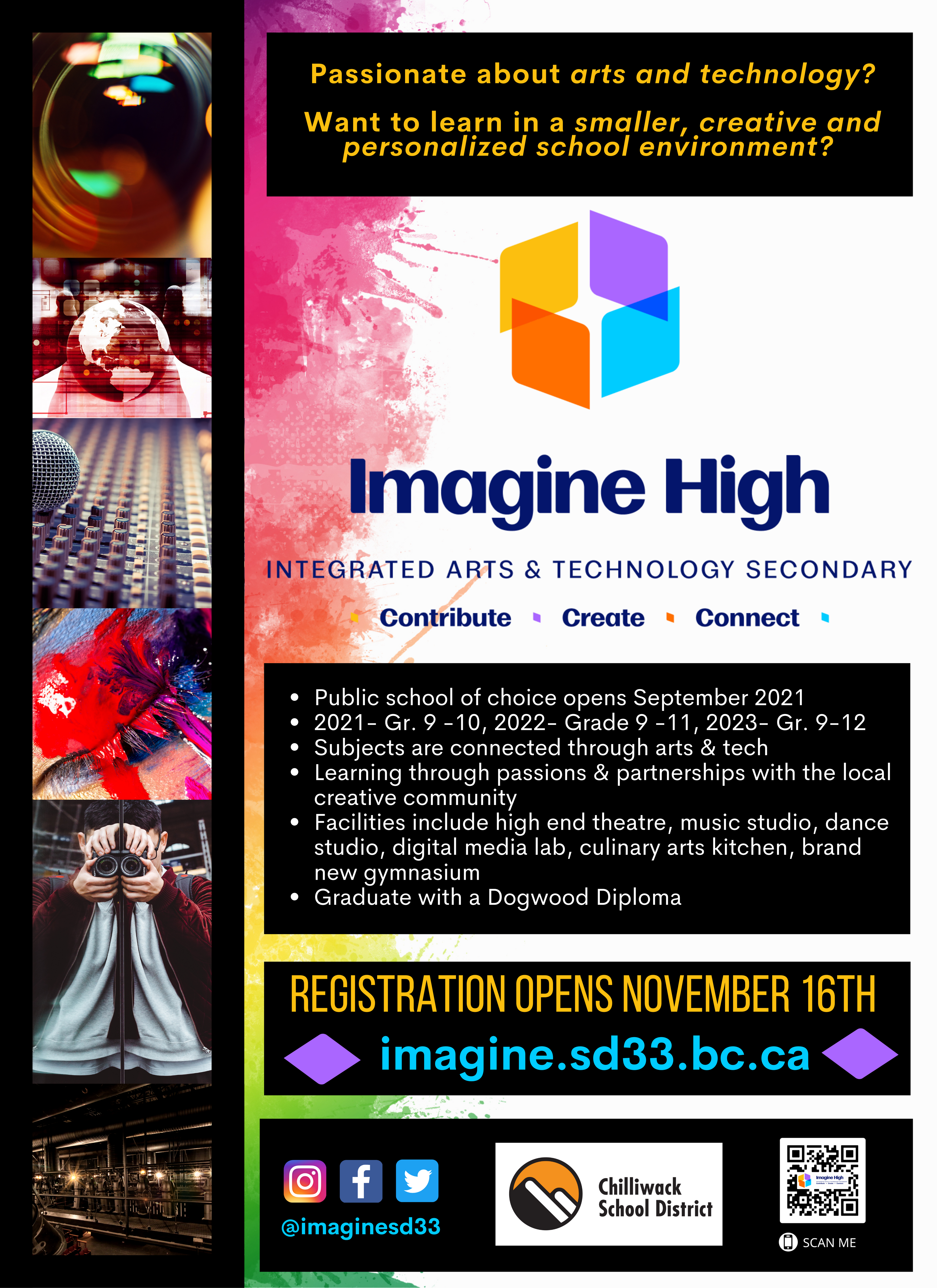 REGISTRATION FULL FOR GRADE 9 SPACES FOR THIS FALL- SPACES IN GRADE 10 STILL AVAILABLE!
Come and visit our online SCHOOL STORE!!  The site will be open until May 15th and is loaded with amazing Imagine High items!  Share the link with your family and friends!
Imagine High Integrated Arts and Technology Secondary opens in September 2021 for students in grades 9 - 10. Imagine High is a public school of choice within the Chilliwack School District, situated on the former site of the University of the Fraser Valley on Yale Road. By 2023 the school will house up to 700 students from grades 9 - 12. Imagine High Integrated Arts and Technology Secondary will be an innovative and vibrant school community, fostering and celebrating creativity, where students will find meaning and contribute to the community within our school and beyond. The school will boast music, dance and art studios, a high-end theatre, culinary arts spaces, cutting edge technologies and a brand new gymnasium. Aside from the outstanding facility and learning resources, the school will offer an innovative approach to teaching and learning that reflects current research. Students who successfully meet the graduation requirements at Imagine High will be eligible to graduate with a Dogwood Diploma.  Graduates will be distinguished by their creativity and imagination, ability to collaborate, think critically, and innovate for a hopeful future.
When Imagine High opens in 2021, integrated arts and technology programming of choice will be offered at three school sites in Chilliwack: FG Leary Fine Arts Elementary (K - 5), AD Rundle Middle School (6 – 8 Integrated Arts & Technology Cohort), Imagine High Integrated Arts and Technology (9-12)